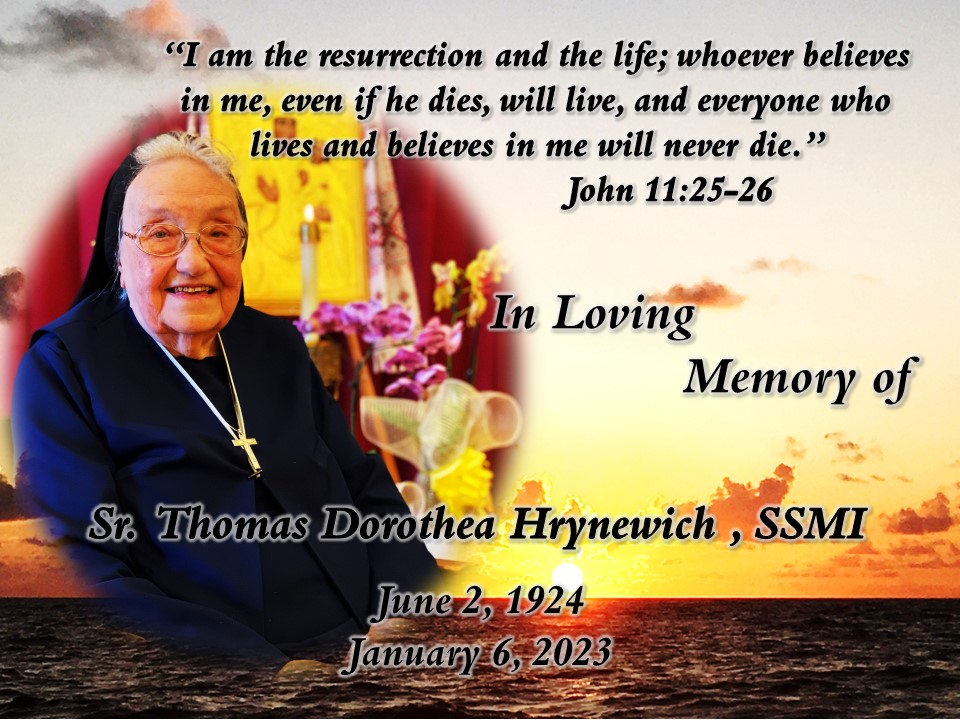 Greetings from + Borys Gudziak – Metropolitan-Archbishop Ukrainian Catholic Archeparchy of Philadelphia
Christ is Born!
Dear Sister Eliane,
Dear Sister Servants,
I write to offer condolences and prayers, personally and in the name of the entire Ukrainian
Catholic Church in the United States as we mourn the passing away of Sr. Thomas Hrynewich,
S.S.M.I.
Sr. Thomas from her youth offered her herself, her very life to Christ, to our Blessed Mother, and to the people of our Church. Formed in the tradition of the Church at Ss. Peter and Paul Church in Ambridge, PA, a community of many vocations, Sister left her hometown to join the Sister Servants of Mary Immaculate in Canada. She never looked back on her decision. For more than eight decades Sister Thomas Hrynewich was a model Christian and a model religious.
Her vocation, dedication and love for everything of God enabled Sister Thomas to serve our Church and people in so many ways: teaching religion, running schools, serving as Provincial of the Sister Servants, going to Ukraine incognito to help the Sisters in the catacombs, studying church administration at the Catholic University of America while taking care of the seminarians at St. Josaphat Seminary, and finally serving so devotedly and effectively as Chancellor of our Philadelphia Archeparchy. It is quite a resume which she never touted or flaunted.
Sister Thomas was a trail blazer. To my knowledge, she was the first woman in the global Ukrainian Catholic Church to serve as chancellor of an eparchy. Serving under two exacting archbishops she earned the universal respect of the clergy, some of whom were not always necessarily deferential to a woman in high archeparchial authority. Sister maintained spiritual balance and with great wisdom advised pastors on canonical matters, managed thorny issues and the different personalities that emerge in curial settings, and witnessed to what is most important.
Sister Thomas continually spoke of her love of Jesus Christ and His Blessed Mother. She was the epitome of service towards God and others.
The end of an era has come with her falling asleep in the Lord.
At the same time, an era has begun when Sister Thomas intercedes on your behalf and ours before God through our Blessed Mother asking the Almighty to have mercy upon us and to save us.
The salvation of souls was her mission in life and it continues in eternity with the Saints.
May her memory be eternal!
Вічная пам'ять!
++++++++
Message from + Stefan Soroka – Metropolitan-Archbishop Emeritus – Ukrainian Catholic Archeparchy of Philadelphia
My heartfelt sympathies are offered to the Sister Servants of Mary Immaculate in the USA on the loss of our beloved Sister Thomas Hrynewich, SSMI. Having departed from her earthly life on the Feast of the Holy Theophany, I cannot help but believe that Sister Thomas, as a devout and faithful follower of Jesus Christ, has experienced the opening of the heavens and seeing the Holy Spirit, just as the Gospels describe what occurred after the baptism of Our Lord. She has undoubtedly heard her well deserved commendation as a good and faithful servant entitled to enter into the joy of her Master.
I was privileged to have first met Sister Thomas during my theological studies at St. Josaphat Ukrainian Catholic Seminary. She was completing her Master's Degree in Ecclesial Administration while at the same time providing for the sustenance of the staff and seminarians in the seminary kitchen. Every seminarian valued her generous sharing of wisdom, guidance, and support. My predecessor, Metropolitan Stephen Sulyk, wisely invited her to apply her skill, wisdom and personal stamina to so ably serve as the Chancellor of the Ukrainian Catholic Archeparchy of Philadelphia.
Her knowledge, skill, and wisdom were of incredible value to me as I assumed the responsibilities as the Metropolitan-Archbishop of Philadelphia. Her abilities and strong faith were also a source of inspiration and guidance for her fellow Sister Servants while in Philadelphia, and later in Sloatsburg. Sister Thomas did not allow any adversity to prevent her from pursuing her commitment to serve others. She was always ready to assist where she was able, and to offer much valued counsel and support to those who reached out to her. Sister Thomas lived the spirit of her Lord, being optimistic and hopeful, and persistent in her endeavors, even sometimes stubbornly in a nice way!
I personally share the grief of Sister Thomas' family members and of her family of the Sister Servants of Mary Immaculate in USA and throughout the world. Words cannot adequately express my heartfelt feelings of gratitude for her goodness shared so richly with me and with so many others. Sister Thomas exemplified so beautifully the virtues of the Mother of God whom she venerated in the footsteps of the foundress of the Sister Servants of Mary Immaculate, Blessed Sister Josaphat Hordashevska, SSMI.
God grant to the soul of our beloved Sister Thomas the everlasting peace which is promised to all who love and serve the Lord. Eternal Memory!