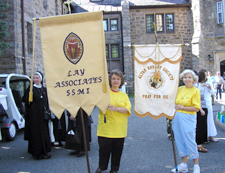 The SSMI Lay Associate Program is an adjunct group designed for women and men who, though not members of the SSMI congregation, would like to live the SSMI charism.
Who are SSMI Lay Associates?
SSMI lay associates are adult men and women who make a renewable, one-year covenant to live the values of the Gospel according to the SSMI charism.
Why be a lay associate?
Our lay associates benefit from the spiritual treasury of the SSMI, gaining personal spiritual enrichment, while developing warm and long-lasting friendships with sisters and other lay associates.
What do the lay associates do?
Lay associates are involved in the prayer life and works of SSMI sisters as much as their home and work obligations allow. Importantly, an SSMI Lay Associate joins in prayer for the intentions of the congregation. In effect, lay associates both draw and lend support to the life and works of the Sisters Servants.
Associates perform acts of kindness and justice in their local community.
Examples of charitable acts are:
working in a parish soup kitchen
offering time in your parish office
teaching religion to adults or children
visiting the sick and shut-ins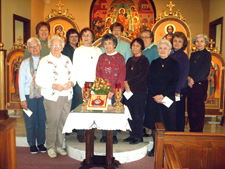 Specifically within the SSMI community, they typically participate in the greater SSMI community events such as the Dormition Pilgrimage and its procession preceding the Pontifical Liturgy, anniversary celebrations, fundraisers, and weekly Sunday Liturgy; as well, they get involved with the SSMI community nearest to them – understandably as much as their schedules permit, but for at least one event per year.
Fundamental to the SSMI Lay Associate Program is an assigned contact sister, she is the liaison between the congregation and the lay associate.
Our lay associates have their own spiritual retreat weekend twice each year, in the spring and fall. They run from Friday evening until Sunday afternoon. During the fall retreat, associates have the opportunity to renew their commitment for a one year period. Associates are also welcome to participate in as much of the 8-day Sister's Retreat in the summer as they are able. There are no fees for these retreats.
Membership candidacy and ongoing requirements
Membership is by invitation after a candidacy process. There are no fees involved.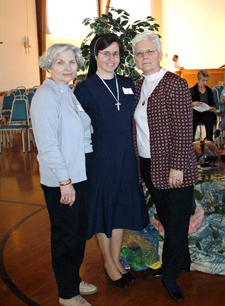 A prospective SSMI Lay Associate candidate:
Submits a letter of request to the Provincial Superior in which they describe in a few sentences why they wish to be an SSMI Lay Associate.
Interviews with the Provincial Superior.
Begins a period of orientation and formation.
If the candidate is accepted by the SSMI congregation and the local SSMI community, there is a commissioning ceremony each fall, at which a formal covenant is made and the new member receives a medal of Our Lady of the Sign.
Each year, associates must describe how they have lived with regards to scripture, love of God, living justly, and acting charitably towards others. They also describe their service(s) to the local community.
Eligibility
An SSMI Lay Associate Program candidate must be:
21 years of age or older, married or single
Emotionally stable
Self-supporting
A practicing Eastern Rite or Roman Rite Catholic, or a Catholic catechumen
Above all, the candidates must have a desire to deepen their prayer life and offer service in the tradition of SSMI.