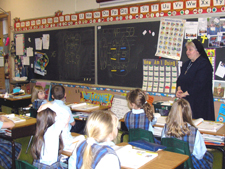 SSMI sisters have taken on a variety of responsible roles to support the eparchies (dioceses) in which they serve. In 1935, eparchial support became the first SSMI mission in the US when five sisters arrived from Canada to serve at the seminary in Stamford.
Currently, we staff the following eparchial positions:
Youth Ministry Coordinator – The SSMI sister who currently holds these dual positions has a background in social work and a Masters Degree in Religious Education.
Youth Ministry Coordinator – This position assists parishes with programs for youth and young adults assisting them in planning and organizing parish youth programs. The position facilitates workshops and retreats for both youths and adults, and coordinates CCD training.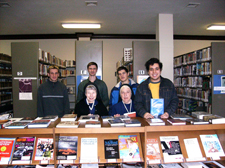 Librarians – SSMI staffs the Seminary and Chancery Libraries for the Stamford Eparchy. Since the sisters know both Ukrainian and English, they are able to assist seminarians researching topics in both languages.
Vestment creation – SSMI designs and creates fine Eastern Christian vestments for bishops, priests, deacons, and altar servers. We also create bishop's miters, altar covers, banners, and flags. See the sidebar article.
If you are interested in custom ecclesiastical articles at reasonable prices, call us at 845-753-5100 or (973) 779-0249. Ask for Sister Eliane.