Sister Mary Ann – Died on June 10, 2020 – Eternal Memory!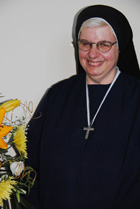 Mary Ann, the youngest in the family, was born on April 15, 1955 along with her twin brother, now, Father Jerome who came first into the world by 13 minutes. Parents John and Mary also gave birth to two sons, John Michael, the oldest, and Thomas.
Mary Ann along with her family attended the Ruthenian parish of St. Michael's Byzantine Catholic Church in Donora, PA. where Msgr. Michael Durisin was the pastor.
Mary Ann entered SSMI on May 14, 1981. Her first profession of vows was on April 7, 1984. Her final profession was on August 15, 1989. She celebrated her 25th jubilee on August 5, 2006.
Some of her interests are reading books, listening to instrumental music, singing, and she also likes to write letters to friends.
Her grandmother always prayed the rosary and her intention everyday was for vocations. Her grandmother passed away in 1972 and never got to see the vocations of a priest and sister from her family.
Sister Mary Ann and her brother Father Jerome still get a good laugh, as being twins, he thought she was going to get married and she thought he was going to get married. Instead she went to SSMI and he became a priest for the Ruthenian Archeparchy of Pittsburgh!
Sister Cecelia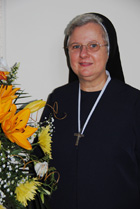 Sister Cecelia of Scranton, PA daughter of Cecelia and George is the oldest of four children. Although Byzantine Catholic, she grew up also being familiar with the Roman Catholic Church.
She attended local public schools participating in volleyball, basketball and swim teams. She was a member of the Future Nurses of America, volunteering as a candy striper at Scranton State Hospital.
Having enjoyed family, camping, canoeing, baking, attending classical concerts, dances, and dating, God kept pulling her heart, since the age of ten, to becoming a sister, nurse, and teacher. With pleasure, her parents helped her to explore professional possibilities and those of religious life with the Maryknoll Missionary Sisters or SSMI.
With God's grace, she chose SSMI and has been in many places and has served in diverse ministries such as geriatric nursing, pastoral ministry for the sick and bereaved in parishes, secretary and vocation director, co-manager of Sheptytsky Arms in Pittsburgh, PA, a high rise for low-income seniors. She was involved in Ukrainian Catholic-Orthodox relations, as a member of the Ukrainian Catholic-Orthodox Choir in Pittsburgh and served for a year with the team in designing the Generations of Faith in parish renewal programs.
Currently, she is full-time religion teacher at St. Nicholas School in Minersville, PA, teaches in the CCD program for children and converts, and is moderator for the girls Junior Marian Sodality. She is national corresponding secretary for the League of Ukrainian Catholics in America.
She is especially fond of: spirituality for a personal relationship with God, meditative prayer, sharing in other's faith journey, choral singing, nature, beauty, music, leisure free space, travel, new experiences, unity in diversity, optimism and good humor. Her prayerful wish is: May God's love, life and grace abound in all and for all – in all ways, for always!
Sister Thomas – Died on January 6, 2023 – Eternal Memory!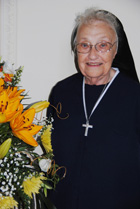 The eldest of four children born to Michael and Tekla, she entered the SSMI immediately after graduating from Ambridge High School. She traveled 3,000 miles with one of the first Sisters, Sister Athanasia, in this congregation, to their novitiate in Mundare, Alberta, Canada.
Sister studied at the University of Detroit, Regina Mundi Institute in Rome, Italy and The Catholic University of America in Washington, DC. She taught elementary school, high school, Ukrainian and English Catechetics and lead retreats and days of recollection. Her studies in Rome coincided with the last days of Vatican II when she met a number of Cardinals, Bishops, and experts attending the council. It was during this time, Sister held the office of Counselor General.
Since Sister drove, her traveling days started from the time of her first vows. Her most exciting trips started in Rome, Italy. It was from this point that she, together with Sister Jerome Chimy, then-Superior General, drove to Germany, France, Switzerland, Yugoslavia, Poland, Hungary, Ukraine, White Russia, and Russia. My mother coined the slogan, "Join the convent and see the world." These countries were visited to meet our sisters, especially those behind the Iron Curtain during the 1960's. She was the first woman chancellor in the Ukrainian Catholic Church, a position she held for 20 years. She now holds the position of Archivist of the Ukrainian Catholic Archeparchy of Philadelphia.
She enjoys brain teasers, TV programs such as, Jeopardy, NCIS, Law and Order, and Cold Case.
Her daily prayer is for young women to realize the contentment and enjoyment in serving others by following Christ and his Mother.
Sister Anne – Died on April 17, 2022 – Eternal Memory!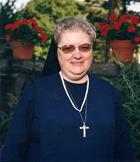 I am the oldest of three children and I was born in Rochester, NY ("Kodak City"). After attending St. Josaphat School where SSMI taught, I attended Benjamin Franklin High School. One month after graduation I entered the novitiate in Ancaster, Canada. Most of my religious life I have been a teacher and / or principal.
My favorite gifts are candles and flowers. I enjoy puzzles, crocheting, flower arranging and teaching. Math is my favorite subject and yellow is my favorite color.
Being with children always brings something new and challenging. Through the years I have met many dedicated teachers and caring pastors as well as wonderful students and parents.
Sister Consolata – Died December 3, 2018 Eternal Memory!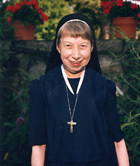 I was born in Cleveland OH, to Michael and Katherine and am of Ruthenian heritage. I have a sister Helen and two brothers, Stephen and Nicholas. Ever since I was young I wanted to be a sister because I thought it was the most beautiful way to love and to serve God. Father Vladimir Firzchak took me to the Sisters Servants of Mary Immaculate as Bishop Ivancho had suggested.
Since I was a nurse before I entered, it seemed only natural to continue that type of ministry within SSMI – from 1956 to 1980 in Villa of Divine Providence – Lansdale, PA, Home of Divine Providence – Philadelphia, PA, and St. Joseph's Home – Sloatsburg, NY.
My mother taught me to love Mary, the Blessed Mother. I pray to our Mother of Consolation, where my name is derived from. I am an assistant librarian at St. Basil Seminary College in Stamford, CT.
I like to make bookmarks and decorate note and greeting cards to bring joy to others.
I am very happy to be a sister and that God chose me to be His beloved. "Forever I will sing the goodness of the Lord."
Someone once said of her, "she has beautiful penmanship, a sweet voice and winsome smile"!
Sister Bernitta – Died October 26, 2021 – Eternal Memory!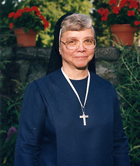 I was born on August 4, 1935, in Ambridge, PA, in SS. Peter and Paul Parish, to Celia and Michel. Our wonderful parents brought eleven children into the world – four boys and seven girls. Sister Anna was the oldest and was also called to religious life with SSMI.
I attended St. Mary's Villa Academy in Sloatsburg, NY where the Sisters Servants had their boarding school and my sister, Sister Anna, was on the faculty.
I entered the SSMI on July 5, 1953, traveling to Ancaster, Ontario for my novitiate training.
My first mission after first vows was to care for the orphans in Alberta. This was a difficult but rewarding and loving mission that made me happy. I saw much love and smiles in the babies and children's innocent faces. My face always lights up when I see babies and little children. I also enjoy teaching elementary school children. I returned to the US in 1957 and have been involved to this day in being a principal or teaching in our elementary schools. My joy has been to educate the youngest of God's children.
For many years during our Dormition Pilgrimage, I take pride in preparing the chapel and priestly vestments. I take great pleasure in witnessing the great devotion of the people who have come for spiritual help.
I enjoy various sports: golf, baseball, and especially football. I am a great Pittsburgh Steelers fan. My favorite past time is crocheting. It's a pleasure to crochet afghans as gifts. I also enjoy God's creation of the different seasons of the year. God's magnificent beauty is beyond words.
I spend time in prayer expressing my gratitude to Almighty God for my beautiful life as a religious. The love of my brothers and sisters has always been a support and encouragement for me in serving God and His people within our Ukrainian Catholic Church.
Sister Oksana – Died on December 31, 2016 – Eternal Memory!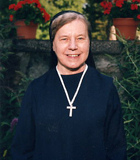 Sister Oksana, a native of Wilkes-Barre, PA was born to Nicholas and Barbara, and was one of five girls. Before entering the community, she worked as an examiner-packer for the Bundle of Joy Co.
In 1946, Mary traveled to Mundare, Alberta entering the Sisters Servants and became known as Sister Oksana. She is best known throughout her religious life as a teacher for the young and a care giver for the elderly.
Today, enjoying her graced elder years, Sister Oksana lives in the company of her elderly friends who enjoy one another.
Sister Tharasia – Died on August 31, 2018 – Eternal Memory!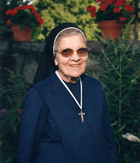 I was born in Ambridge, Pennsylvania and attended Anthony Wayne Elementary School and Ambridge Junior High School. I finished high school as a Sister Servant.
Although there were many difficulties growing up during the great depression, there were many pleasant moments at home and in the parish life while I was a sodalist and a member of the church choir; which was very active.
At the age of 19, I met the SSMI who came to our parish. Watching the sisters working quietly, peacefully, and diligently fascinated me. I and the other girls were happy to join the Sodality the sisters organized because the two young sisters guided us to imitate the Blessed Mother.
Soon I felt I would like to serve God as did Sister Lawrence and Sister Andrea. After overcoming obstacles, I entered the convent at the age of 21. Following the novitiate, I was assigned to several parishes in the U.S. Also, I worked in Canada in the orphanage and the girl's high school as a prefect. I had many pleasant experiences that enriched my life.
Now I am stationed at St. Mary's Villa where I take care of the retreatants. There are many good qualities to admire in the retreatants and sisters, but what I admire the most is the unique beauty of Mother Nature surrounding us.
I like to write to people, but I never write long letters. I mostly send a card honoring their birthday, anniversary, or congratulations or expression of sympathy. I also like to visit the sick in the hospital, nursing home or at their own home. I enjoy plays and educational programs given by children and youth.
Sister Barbara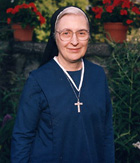 I am the middle child of Nicholas and Anna. My brother, Nick, is three years older than I and my sister, Mary Kay, is seven years younger.
Being raised in a steel town of Ambridge, PA, which is located northwest of Pittsburgh; it was common to have soot particles in the air from the steel mills in and around Ambridge.
Despite the soot and since we had no car, walking was our main means of getting around. Enjoyments were walking through the woods, attending the Ambridge High School home football games, watching the Pittsburgh Steelers and the Pittsburgh Pirates on TV, and listening to music; especially the Big Bands on TV.
SS. Peter and Paul Ukrainian Greek Catholic Church in Ambridge was the spiritual center for our family. This is where I learned to love our Church, especially the singing, by attending Divine Liturgies, Molebens, and other services.
I attended Ambridge public schools and in the evenings, during my grade school years, I attended "night school" at our parish, which was conducted by SSMI. The closeness with the sisters began to grow, as some of us girls would spend time with the sisters after school, or help them before classes started. As Junior Sodalists, we would assist the sisters with cleaning in the church. By the time I was a senior sodalist, my desire to become a Sister Servant of Mary Immaculate was deepening.
On November 5, 1957, I entered SSMI in Ancaster, Ontario, Canada. After I pronounced my First Vows in May, 1960, I returned to the US to serve in teaching, assisting and administration in our nursing home, adult care home, and finance office. In these fifty years of service in our church, through the ministries of SSMI, my life has been touched by many different people, of which I am most grateful.
The experience of how God has touched my life through my Spiritual life and missions is irreplaceable.
Sister Eliane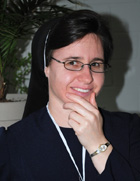 I have been working in the American province April, 2005, coming to the US from our province in Brazil. In August 2010 I transferred from our Province in Brazil to become a member of the American Province. I have been in the community of the Sisters Servants of Mary Immaculate since 1996 and I am the oldest of four girls.
My vocation is the fruit of my mom's prayers. She always wanted to be a sister but never met nor had contact with sisters, thus she got married. She prayed, asking God to call one of her daughters to religious life. My mom was very sick and was hospitalized twice before I was born. She prayed each day, becoming stronger and promising if this child should be chosen and called, she would not refuse God. This I never knew until after my final vows.
I grew up with the sisters, watching them at work, in church, and working with families. I attended school for seven years with the sisters. Being in the presence of the sisters and working with them, along with the prayers of my family, helped to foster my vocation, also helping me to grow in my faith. Today I am very happy being an SSMI.
In 2004, I was invited by my community to go to the US to learn to sew priestly and episcopal vestments. These years have been a blessing for me. I am grateful to God and to my Superiors for the opportunity to be here, meeting wonderful people, learning a new culture and language, making others happy and serving "where the need is the greatest." I am glad when I see others happy with my service and through this service God is showing His love. I cannot do anything without His hand guiding me to follow His will.
Everyday I thank God for being alive and able to walk, to breathe, to pray, to think, to laugh, to work and I thank Him especially for my vocation.
I enjoy teaching and sewing. My hobby is to listen to the birds and soft music. My favorite things are: pizza and a Brazilian barbecue (churrasco), roses, volleyball, basketball, and music by Celine Dion.
Sister Longina – Died on March 21, 2021 – Eternal Memory!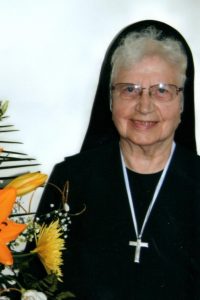 I am the daughter of Mary and Alex and grew up in Belfield, ND. I come from a large family that lived on a traditional farm – growing wheat and other crops, plus raising livestock, especially turkeys and ducks.
While growing-up, I enjoyed music, singing, dancing and caring for the sick. My desire to become a nurse began at the age of eight, when I helped care for my dying grandmother — my Mom's mother.
Before entering religious life, I worked as a nurse-aide at Saint Joseph's Hospital, which the Sisters of Mercy of the Holy Cross owned. These Sisters encouraged me to enter their order, but I didn't want to give-up my Byzantine Rite with its rich traditions.
However, when I met the SSMI, I knew then that I wanted to be like them. I felt a strong calling, but my battle was in giving-up a marriage that was planned for the coming fall. While I did a lot of praying over this matter, the Sisters Servants were praying everyday with their children for a very special intention, without knowing that this intention was for me. After a lot of praying and discernment, I chose to give my life to Jesus as part of SSMI.
I have enjoyed my 65 years of community life at a variety of missions in the US and Canada, serving as a: registered RN nurse; CCD teacher; sacristan at the Ukrainian Catholic Cathedral of the Immaculate Conception in Philadelphia, PA, rectory secretary, and altar boy moderator.
At present, I am retired from nursing and am enjoying a twofold ministry at Saint Nicholas Parish, Minersville, PA. I offer pastoral/Eucharistic ministry for the sick and dying, and I offer loving and caring prayer for those in need, especially those at our parish and those who ask for prayer for their special intentions.
Sister Rose Margaret- Died on April 10, 2020 – Eternal Memory!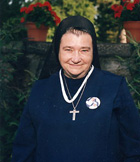 I come from Fairfield, ND. To my saintly parents, Peter and Mary was born nine boys and five girls. I am the third youngest. I entered the congregation on January 25, 1956.
I am very grateful to Almighty God for my religious vocation. I have enjoyed cooking for 46 years. My favorite dish is borscht (beet soup) and pumpkin chiffon pie. I have been told that I could fix any mistake in cooking they made!
I have always enjoyed gardening outdoors, and working with flowers indoors as well. Over the past two years I've enjoyed drawing and painting with chalk, pencil and paints; a talent I never knew I had!
Sister Michele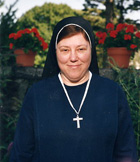 I am the oldest of five children (one brother and three sisters) and grew up in Rochester, NY. My father Michael was a baker, as was my uncle and grandfather. So, I loved to eat bread – all kinds of it; and still do! My mom, Mary, was an "at-home mom" for all of us. Growing up, we were often in the orchards picking fruit from the trees.
I am grateful for my catholic education at St. Josaphat's grade school with the Sisters Servants, at St. Joseph's Business High with the School Sisters of Notre Dame, and finally with the Jesuits at St. Louis University. Catholic education was one of the blessings in my life, enabling me to become who I am today.
I have been a Sister Servant since 1971, realizing dreams never imaginable, such as teaching grade school, business subjects at our high school, working in administration, traveling to countries such as Ukraine, Serbia, Poland, Brazil, Italy and parts of Canada.
I very much enjoy and relish the miracles of everyday… a rainbow, beautiful sunset, a child growing from infancy to toddler, seeing the deer and bears in our own backyard.
Italian food is a favorite of mine as well as McDonald's even though I am a pure blooded Ukrainian! Music is enjoyable as well as Rummykub and Skip-O. I enjoy sports, always rooting for the team that is losing. I enjoy cutting and smelling fresh cut grass and watching the flowers I planted bloom.
My desire is to live by the words of the Prophet Micah: Act justly, love tenderly and walk humbly with God!
Sister Jonathan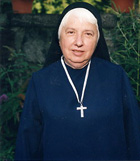 "Today is God's gift – Listen to your heart".
Because my parents came from Ukraine and settled in New Jersey, I grew up belonging to St. John's Ukrainian Catholic Church in Newark and was blessed with being enrolled in grade one the year the school opened. I truly believe my vocation to the religious life was born there.
I was blessed to attend the Dominican College in Caldwell where before our graduation the Chaplain told us by 25 we better be where our heart wants us to be. I had my degree and certificate to teach in grades 7-12, and loved teaching students debating skills and seeing their confidence grow. After three great years, even though South Plainfield High School wanted me to help their students in all such needs, I was 24 and knew I needed to listen to my heart.
Again it was the priest at St. John's who said to me, "Go see the SSMI. They are at Sloatsburg". I went to a place I'd never been before, and heard my heart say, "Yes, here it is." And so it has been and continues to be where my heart is – in each day. I invite you to listen to your heart – each day becomes God's gift.
Sister Stephanie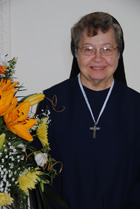 Hailing from the deep woods of Forestville, PA, Sister Stephanie was born into a large and deeply faith-filled family. She is third from the youngest among fourteen siblings. A proud product of the SSMI whom she always held dear to her heart, Sister Stephanie grew up in their warmth from throughout her first school years in her parish school of St. Nicholas in Minersville, PA, to their High School at St. Mary's Villa Academy in Sloatsburg, NY from which she then entered SSMI after graduating from the Academy. Most of her fifty-five years in Religious Life were spent in administration and formation work. For twelve years she served in an administrative capacity at the SSMI Generalate Headquarters in Rome, Italy and also worked for Pope John Paul II at the Catholic Near East Welfare Association based in the Vatican.
Presently, wherever Sister Stephanie lands in her ministry, she is back to where her heart always was – teaching; especially religion. A staunch New York Mets fan, she also loves dancing, watching ice skating, horses, the seashore, parties, fun, laughter and all that embodies her Ukrainian-American Heritage.
Sister Kathleen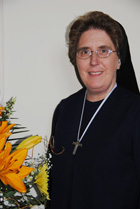 I am the youngest of four children and was born in Hammond, IN. My vocation was instilled and modeled by the faith-filled lives of my parents who taught all of their children that church and family life are deeply connected. I have twin brothers, Father Basil and Father Joseph; both are diocesan priests, in the Parma Diocese and the Van Nuys Diocese, respectively. I entered the congregation of the Sisters Servants of Mary Immaculate in 1980 and had been in the ministry of education for 25 years at parish schools in Youngstown, OH, Passaic, NJ, Minersville, PA and Auburn, NY. On June 28th, I was installed as the Provincial Superior of the American Province for a five-year term.
I believe that "if you look for the good in people, you will find it." Through my vocation and ministries, I have been fortunate to touch many lives with the Gospel of Jesus and be touched by so many wonderful people that she has been privileged to meet.
I enjoy reading, listening to music from the 1960's, 70's, and 80's. I also enjoy spending time with my sisters in community, family and friends, relaxing by the ocean, bowling, and enjoy animals. I am an avid fan of the women's college basketball team, the Lady Tennessee Vols and would love to meet Coach Pat Summit and attend an NCAA Tournament Championship someday.
My prayer is that more young women would answer Jesus' invitation to bring Jesus to others as a Sister Servant of Mary Immaculate.
Sister Juliette – Died on December 6, 2020 – Eternal Memory!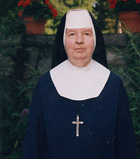 Sister Juliette from Thunder Bay, Ontario has enjoyed teaching primary grades throughout many of the parishes in the US such as Philadelphia, Shamokin, Minersville and Ambridge, Pennsylvania; Buffalo and Rochester, New York; Elizabeth and Passaic, New Jersey; and Ansonia Connecticut. She also enjoys caring for the elderly at our St. Joseph's Adult Care Home which she finds very rewarding.
Her hobbies are crocheting, reading good books and watching a good movie from time to time. Aside from her hobbies, Sister Juliette is noted for always lending a helping hand wherever and whenever needed.
As she states, "My religious life has been most interesting and very rewarding with blessings a hundredfold daily"
Sister Natalya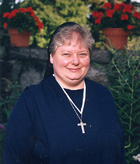 I was born in Chicago and moved to Wisconsin when I was beginning high school I came to the East Coast to enter the Sisters Servants in 1991. I had worked as a Social Worker for 10 years before entering the Congregation.
I was the youngest child and only daughter of 3 children. Family was the center of our lives growing up. My best friends were my cousins and we grew up spending much time together, including summers. I was the only girl for many years and was, therefore, spoiled and greatly loved by my entire family. The experience of my family's love taught me a great deal about God's love and sharing love with others. The love of my family taught me to love others and gave me the desire to devote myself to others. This, I did through social work, youth ministry and later religious life.
I love Nature—being outside in the beauty that is found in the surprises of every day. I enjoy having plants and flowers all around me. I enjoy creating in many forms – cross stitch, photography, music, and crafts in all forms. I love to see the end-product of the things that I have spent time doing and then giving these gifts- these parts of myself to others. It brings me joy to share the gifts that I have been given with others.
I also love people of every age. They teach me and give me so much more that I can ever give to them. I find it an amazing gift and awesome privilege to be allowed into the lives of others. This is a treasure that I hold tenderly in my heart.
I enjoy giving talks, workshops and retreats and I love to read stories of all kinds and share them with others.
I have worked in the eparchial offices of Youth Ministry, Religious Education and Child Protection. I am currently working as the Editor in Chief of the SOWER, the eparchial newspaper of Stamford. This is a wonderful learning experience and often a challenge that helps me to grow. It also allows me to be creative by writing and doing layout design.
To me life is a wondrous, mysterious adventure, orchestrated by God, with new things to experience and learn every day. The key to my adventure is to allow myself to be led into the adventure and not try to direct it or control it. Religious life, for me, is a key to the mystery and the path of my adventure.
Sister Zenovia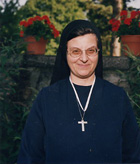 Although I am German-born, my heritage is Ukrainian-American. My Ukrainian parents (now deceased), my sister and I stayed for a few months in Bayonne, NJ, then we moved and lived in Rochester, N.Y. and my brother was born. My early years were hard but full of love, faith, hope, excitement, and learning. We were surrounded by people who loved and lived family togetherness. Life revolved around family/friends, church, school, and youth organization activities.
Some of my hobbies and interests were piano, singing in the church choir, Ukrainian dancing, cross- stitching (in my younger years), volleyball, ping-pong, coin collecting, stamp collecting, studying/reading, and typing.
Give thanks to the Lord for the Lord is kind and gracious! By the grace of God, it has been 40+ years that I was called to follow Christ to serve in our Church, and be part of our Congregation. May Jesus Christ, Mary – the Theotokos, and our foundress Blessed Josaphata continue to bless all those whom I have met at the crossroads of life's experiences in the various parishes, schools, organizations and places of encounter. St. Basil's College Library is a great workplace to be in. There is opportunity to attend workshops throughout the year at St. Basil's Seminary facility. May God's peace dwell in your hearts.
Sister Albina – Died on November 30, 2020 – Eternal Memory!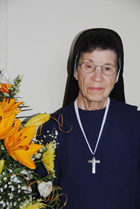 I am the youngest of nine children born in Belfield, ND where the summers were hot and the winters were extremely cold with high snow banks.
As a child I became acquainted with the Sisters Servants when they came to our parish to teach during the summer. I liked what I saw. They were joyful, happy, and exciting to have around. I wanted to be like them! My mother had great respect for the sisters which was helpful in my decision-making.
I was received as a postulant in St. Demetrius Church in Ukraine, ND on June 26, 1944 and went on to Mundare, Alberta, Canada for my novitiate.
Most of my 64 years in religious life were spent in teaching; some years as a teacher and principal. The grades I enjoyed teaching the most were grades one and two with preparation for First Holy Communion.
After teaching the school year in 2002, my ministry changed from teaching to administration of St. Mary's Villa Retreat House, our community motherhouse in Sloatsburg, NY, where I remain to the present.
Some of the things I enjoy are gardening of vegetables and flowers, quiet time and reading.
Sister Clare – Died on July 27, 2017 – Eternal Memory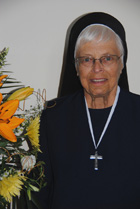 I have been a Sister Servant of Mary Immaculate for 59 years. I entered after graduating from St. Mary's Villa Academy in Sloatsburg. NY, which was conducted by the Sisters Servants.
After formation in Ancaster, Ontario, I spent years in education, both elementary and secondary level as teacher and principal. Following preparation at Boston College, years were spent in parish ministry as pastoral associate, preparing parents for their children's baptism, religious education, preparing people for reception as member of the Catholic Church through the Rite of Christian Initiation of Adults and visiting the sick in homes, hospitals, and nursing homes.
I was also a hospice volunteer who journeyed with the terminally ill and dying and their families. The past 13 years have been spent in the Finance Department in payroll and billing.
I enjoy traveling and visiting various countries and parts of the United States. My priority is to build a relationship with Jesus Christ through prayer and reflection of Scriptures. In my leisure time I enjoy being with family and friends, baking, doing various handiwork like crocheting and quilting. I find that classical music and reading enrich the soul.
Sister Evelyn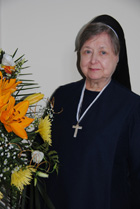 I was born on May 31, 1930 to loving parents, Theodore and Mary. I was baptized and confirmed five days after birth at Holy Trinity Church in St. Clair, PA.
My parents instilled and molded in me and my siblings (John, Michael, Peter, Helen, Thomas, and Theodore) the fear of God, and also, the love of God, as well as the traditions of our Ukrainian heritage. They labored for the church and continued to render their services whenever needed.
My mother prayed that one day a son and daughter would be called to the priesthood and religious Life. Her prayers were answered when my brother John became a priest, and later a bishop for the Archeparchy of Philadelphia, and I became a sister.
I entered SSMI in Sloatsburg, NY on August 15, 1946 and continued to Ancaster, Ontario for my novitiate. My first vows were made in 1949 with my final vows in 1955. I completed high school at Sacred Heart Academy in Yorkton, Saskatchewan, Canada and went on to complete my Masters in the US.
I've had the opportunity to visit Rome, France, Spain, Germany, Austria, and Switzerland – all breathtaking countries. I have taught in elementary schools and served as principal. I like to read, say my personal prayers, and listen to music and meditative tapes.
Sister Charlotte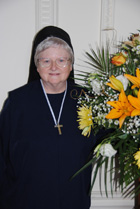 My earliest memories recall living and working hard with my siblings on small farms in what was mostly-Protestant rural Ohio. However, my maternal grandparents were Byzantine Catholics that had immigrated between 1890 and 1910 from near Kosice, in present-day Slovakia. At the time, unfortunately some in that part of Ohio had negative feelings towards Catholics. As a child, I developed a devotion to Our Lady of Perpetual Help. I turned to her for help and entrusted all my concerns to her. I can assure that I experienced her consolation in great measure.
My paternal grandparents were Protestant Germans but my father was not a religious man, and moreover, was adverse to Catholic traditions. Our farm home was far from any Catholic churches; so it wasn't until I was a teenager that I was able to experience the beauty of our Byzantine Catholic Liturgical Services and customs. On my first Byzantine church experience, I was invited to join relatives in the choir loft to sing Divine Liturgy responses – in the English language. That experience left me awed by the incredible beauty of Byzantine liturgical music and prayers! That memory is still with me today.
All of my early experiences served to deepen my faith and relationship with God. I decided to dedicate my life to serve Him in 1957 and I visited the SSMI in Youngstown, OH, a convent named Our Lady of Perpetual Help! Having experienced a wonderful time there, I decided to give this life a try.
I have worked primarily in elementary parochial education, serving twenty-eight years as a teacher and four years as a principal. In 1985, my Catechetical focus for twelve years would turn to assisting parish catechists in both the Stamford Eparchy and the Archeparchy of Philadelphia years. Later, ten years were spent as administrator for St. Joseph's Adult Care Home.
I am happiest whenever I help both adults and children to learn about their faith and to deepen their relationship with God and their Church Communities.
I have discovered and experienced the great joy and reward that comes to those who unselfishly choose to serve Our Lord. It is a most satisfying and rewarding vocation.
Sister Bernardine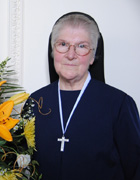 I, one of 14 children born to Andrew and Anna, lived in North Dakota until the age of 14 when I left home to attend high school in Sloatsburg, NY, at St. Mary's Villa Academy.
From the wheat fields of North Dakota to the mountains and ocean of the East, I was called to SSMI. Being a member of SSMI has given me opportunities to see much of the world and experience different ways of life.
Studying at St. Boniface Hospital in Winnipeg, Manitoba has provided me with great opportunities to be of service especially to the elderly. I love to hear their wisdom learned through living. I was honored to serve on the administration of our General Council in Rome, Italy which also afforded me the opportunity to study at Regina Mundi, in Rome.
Some of my interests are traveling, singing, reading mysteries, being a listener, being of service to others, and being a part of a team that lead retreats for women.
Sister Tekla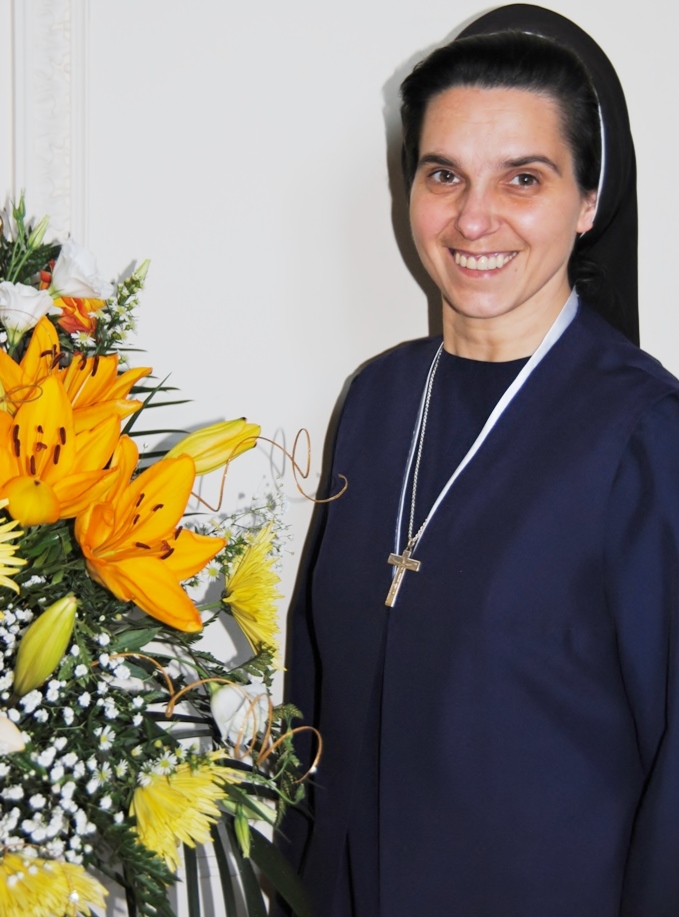 I was born in Ukraine and I have a twin sister and two brothers. We were brought up in a Christian family. The spirirtual guide for our family was Bishop Sofron Dmyterko, OSBM. We lived in a three family complex near Bishop Sofron Dmyterko. Many priests and religious visited Bishop Sofron for religious guidance.
Soon I met a Sister Servant who explained the charism and life of the Sisters. Sister invited me to visit the Sisters and their way of life. At the same time the Greek Catholic Church was evolving. As the young people began attending meetings they learned of the establishment of the Greek Catholic Church. Up to this time, the Soviet Union allowed only the Russian Orthodox Church.
However with these changes my life is beginning to change. The Gospel words of St. John made a deep impression on me: "You did not choose me, I chose you." These profound words gave me the desire to be a Sister Servant. The charism has filled my entire religious life.
The words of our foundress, Sister Josaphata Hordashevska also stired my heart. "Go where the need is the greatest." Therefore I came to America to work in God's vineyard. Thus I enjoy teaching catechism to young children.
Likewise my hobbies are knitting, listening to music, soccer, ping-pong and basketball.