Here are some questions that we are frequently asked. Please feel free to approach us if you have a question that is not answered on our website.
The SSMI Congregation
1. How many sisters are in SSMI worldwide and how many are there in the US?
Worldwide, SSMI consists of 700 sisters. SSMI-US – The Immaculate Conception Province currently numbers 21 sisters, as of January 2018
2. In how many countries are the SSMI represented and where is your headquarters?
SSMI now has a presence in 13 countries: Ukraine; Slovakia; Poland; Germany; Serbia; Kazakhstan; France (Lourdes); Italy (Rome); Brazil (our largest province); Argentina; Canada; Australia; and the United States.
Our generalate (motherhouse) is in Rome, Italy.
3. Does the US province have a title?
Yes. SSMI-US is The Immaculate Conception Province, established in 1959.
4. What are your ministries in the US?
SSMI-US -The Immaculate Conception Province serves in six ministries. We define our ministries as:
Adult Care
Retreat House
Pilgrimage
Education
Sewing Vestments
Comforting the sick
5. Where does SSMI serve in the US?
Most SSMI-US activities are in northeastern US. updated January 2018
SSMI has a ministerial presence in:
– Sloatsburg, NY – Retreat House, St. Joseph's Adult Care Home, Dormition Pilgrimage
– Minersville, PA; Passaic, NJ;- Education
Ministries for the Faithful at Sloatsburg, NY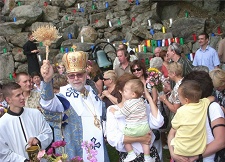 1. Where and when is your SSMI Dormition Pilgrimage?
The Dormition Pilgrimage has been held on our property in Sloatsburg, NY since 1954. It is always held on the weekend before the Feast of the Dormition (Assumption), August 15. Click on the pilgrimage dates on our calendar for events and times. The main pilgrimage day is Sunday which features a Pontifical Divine Liturgy at the grotto, confessions, Stations of the Cross, healing service, and concessions.
2. How can I learn about St. Joseph's Adult Care facility that SSMI runs?
St. Joseph's Adult Care Home is on our property at Sloatsburg, NY. Click on the link to learn more.
3. Does SSMI host retreats?
Yes, we do. We host retreats at our facilities at St. Mary's Villa Retreat House in Sloatsburg, NY.
4. Does SSMI have prayer enrollment cards for special intentions?
Yes. We can send you Prayer Enrollment Cards if you would like to have friends or relatives, either living or deceased, or even yourself, remembered for a year in the daily prayers of SSMI. Contact the Provincialate office.
Vocations to SSMI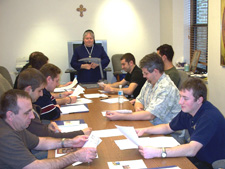 1. I may have a vocation as a sister. How can a vocation learn more about SSMI?
We suggest that a potential vocation read through our site then call us for a chat to learn more. We'll help to determine if an SSMI vocation is the right one for you. If there is a potential for a vocation with SSMI, we'll have you get to know us, while we'll get to know you.
2. Must a vocation be able to speak or write Ukrainian?
No. An SSMI vocation does not need to speak or write Ukrainian. Many of our daily prayers and services are in Ukrainian, so reading Ukrainian phonetically is encouraged. We have found that non-Ukrainian-speaking vocations pick up phonetic reading skills rather quickly.
3. Do you need to have been be raised in the Byzantine Catholic Rite or be ethnically Ukrainian or Ruthenian to enter SSMI?
No. While most of our sisters were brought up in the Byzantine Rite and are of Ukrainian or Ruthenian heritage; others, raised in the Roman Rite are attracted to the beauty of Byzantine Rite spirituality and customs.
4. What is the current age range for most vocations?
In times past, young women would enter after high school. More recently, we have found that more mature women — sometimes already in a career — who realize that they want to make a difference in the world, are the best-prepared vocations. We generally will accept vocations from age 18 to 40, but vocations older than 40 are considered on an individual basis, depending on circumstances.
5. Do SSMI sisters change their names?
In the past, upon entering, postulants took the name of a saint. In recent times, SSMI-US sisters have the option of retaining their full birth names for life or adopting a new name after first vows. We chose not to use last names on this website.
Our Byzantine Catholic Heritage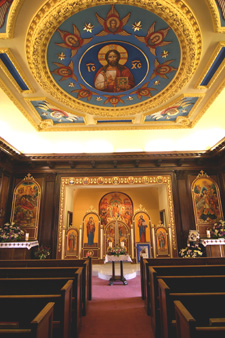 1. Are you a Catholic congregation?
Yes. Our congregation is part of the Byzantine Catholic Church.
Along with the more common Roman Catholic Church, the Byzantine Catholic Church is in full communion with Rome and is under the spiritual leadership of the Pope of Rome. Canonically speaking, the Byzantine Catholic Church is a Church in its own right (sui juris) like the Roman Catholic Church and the other Eastern Churches.
SSMI is a pontifical congregation which means we are under the Holy Father, and not diocesan, which would be under the local Bishop.
2. How is the Byzantine Church different from the Roman Church?
The Byzantine Church is theologically one with the Roman Church and both are under the authority of the Catholic Church. However, the Byzantine Catholic Church has its own rite, that is, distinctive spirituality, liturgies, services, hymns, and prayers. There are also differences in liturgical traditions such vestments, church architecture, and some Holy Days of Obligation.
3. Aren't you called Greek Catholic sometimes? Where does the word Byzantine come from?
Yes, the term Greek Catholic is particularly used in Europe for our Church.
The history of the nomenclature Greek Catholic and Byzantine is interesting.
In the 300's AD, the Roman Empire split into the Western and Eastern Empires. The eastern Roman Empire made its capitol in the city of Byzantium, which the Emperor Constantine renamed Constantinople (presently, Istanbul, Turkey).
The language of learned people, including clergy, in the Eastern Roman Empire was Greek, not Latin as in the Western Roman Empire with its capitol, Rome.
In the 900's AD Greek-culture missionaries set forth from what came to be called the Byzantine Empire to convert Eastern Europe. Thus, the churches that they founded can be referred to as "Byzantine" or "Greek" Catholic.