Seeing someone working on a puzzle of many pieces, I see their dedication, their perseverance, their enjoyment of the task, and the truly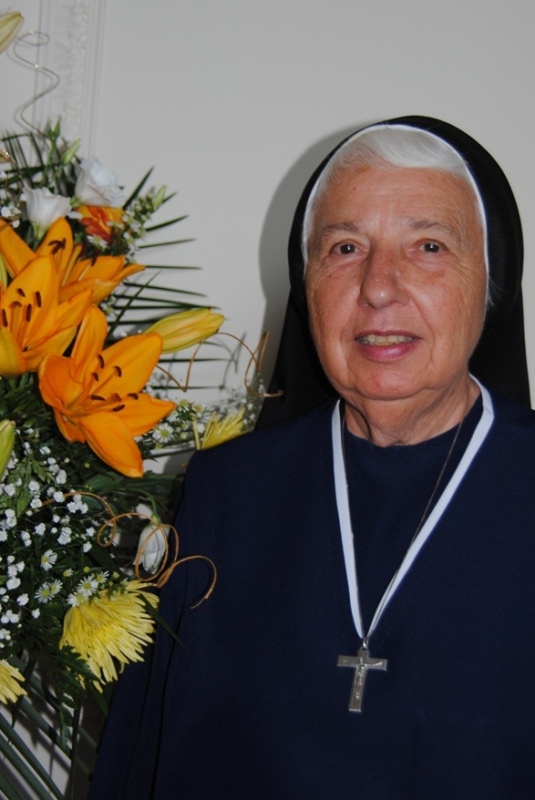 beautiful work of art upon completing the many pieced puzzle. Although I don't do puzzles, except perhaps putting in a few pieces, it speaks to me of a life's journey.
Using puzzle pieces, I shall try to put together my vocation story and as puzzles are done I'll be hopping around.
My first puzzle piece – my name Sister Jonathan, for it is connected to my family story. At birth my mother named me Mary, for I was born on September 10, near the birthday of Blessed Mother. My father had died eight months before my birth. My parents had come to Perth Amboy, N.J. with their first born my brother John, one year old from Ukraine. My brother John was 20 years old and had four younger brothers and two younger sisters by the time I was born. He decided not to marry so as to take care of Mom and the whole family – never once complaining, always lovingly caring for all of us. Soon we moved to Newark, New Jersey, belonging now to St. John's Church. I took the name Jonathan after my brother John and my patron saint was John the Baptist, my brother's saint – and also my love for the parish and for the school for I attended the school being in grade one when it open in 1939. I taught Grade 7 at St. Johns from 1955-57 after completing college and certified to teach grades 7-12 as I had promised I would do. Yes, puzzle pieces can be long.
Second puzzle piece – How can the youngest daughter leave her Mom to enter a religious community? And my mother was in her sixties. My father was educated but my mother could never read nor write, and she only spoke Ukrainian. Yet she was the one who taught me how to pray and together we prayed in Ukrainian, not only prayers but things like the Ten Commandments all learned by memory. When my family knew my desire to become a Sister, all my brother John said to me was "If you change your mind, and want to come home, you'll always be welcomed back." So going back to the puzzle, I could leave because always my mom and family supported all my desires as I grew up. For example, when I was in grade 4 we lived in Montclair, N.J. (for my brother John had his own furniture business there and we had our own home there.) I chose public school for we had no Ukrainian Catholic church or school; but for college I chose Caldwell College, a Catholic college, Dominican Sisters rather than our well known Montclair State .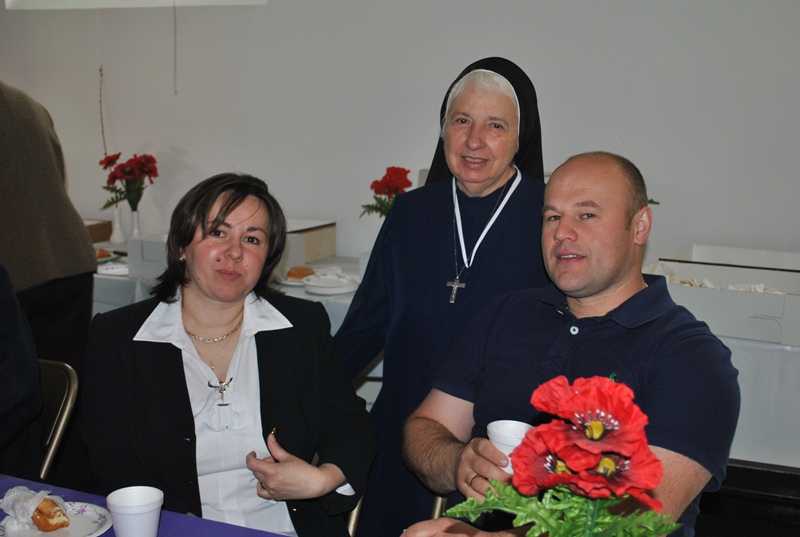 The Sisters there asked me if I wanted to be a Sister, and all I said, I'd never be one in a Roman Catholic Community. When we were graduating, the Dominican priest there said to all of us, "By 25 you should be where your heart wants you to be."
Third puzzle piece – Where my heart wants me to be. After two wonderful years of teaching at St. John's School, I left as I wanted to go to Seton Hall University to get my master's degree and went to teach at South Plainfield High School where I would receive a salary that would cover that dream and also pay for my new car. (The pastor at St. John's had been willing to pay for my education, but I didn't desire that.) I loved that year of teaching and the school wanted me on their staff, but I knew I was nearing 25 and like that priest said I needed to be where my heart wanted me to be. When the Redemptorist priest at St. John, who knew me and my family well, heard about my desire, he encouraged me to go and see the SSMI community, and he directed me to Sloatsburg, N.Y. During my first visit there I knew this community was where my heart was calling me to be. The Sisters at both homes there – St. Mary's and St. Joseph's were so joyful and sincere. One sister even mentioned to me "Don't you want to get married?" Somehow I knew deep in my heart as a child deeply loved and cared for, going with family to our church, celebrating all special days with our customs, enjoying all who joined us (remember I was the youngest), that God had planted that in my heart.
My final puzzle piece – my life as a SSMI. I enjoyed my training at our novitiate which at the time was in Ancaster, Canada. I loved my first mission of teaching in Passaic, N.J. and yes, I was blessed in a variety of ways by all my other assignments. Yes, I taught and was principal after that in Cleveland, OH and also for many years at our high school at Sloatsburg. I also taught in Chicago, IL; Minersville, PA; Elizabeth, NJ; and in Austintown, OH where we started the school. But in 1964 I was especially blessed to return to Passaic to teach, this time at St. Michael's School for my mother was ill and I was nearby, and yes she died when I was there. Yes, always this was the love I experienced in our community.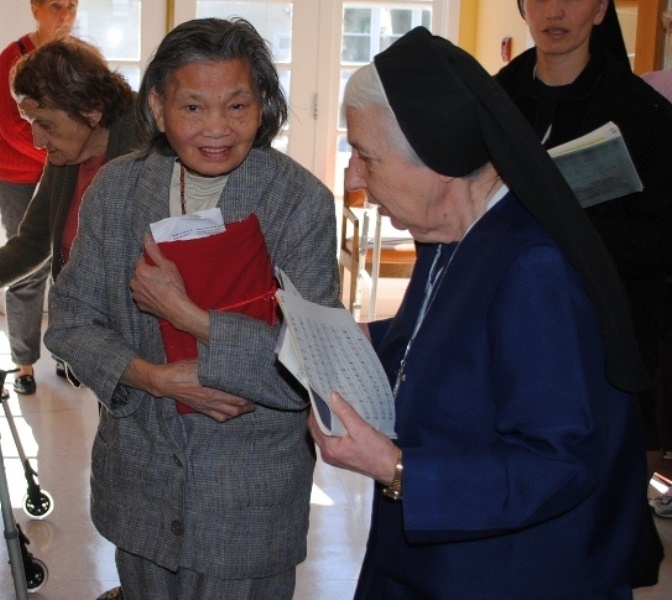 After almost twenty years of teaching, I became the Novice Directress at our Novitiate in Sloatsburg, NY being trained for that
position in St. Louis University, and being a provincial councilor for those10 years, getting me ready to be provincial for the next ten years. Always God taking care of me. Following my 10 years as Provincial, I spent a few years at St. Mary's retreat home, and then almost 10 years in Stamford, CT as a librarian, and again trained for that at St. Francis College in Pennsylvania.
Now I am at St. Joseph's Adult Home. I do activities with our residents. All I can say is here at St. Joseph's and everywhere where I was missioned, God's love was and is there for me – giving me joy, understanding when I need that, and always showing me the specialness of each person. I thank my God each day for blessing my life and for all God's wonderful people.