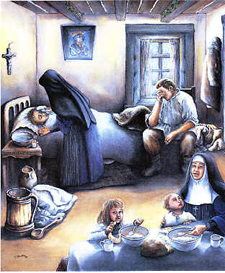 "Blessed are the merciful, for they will be shown mercy."
Matthew 5:7
The sixth corporal work of mercy: To visit the sick.
In the spirit of the Beatitudes, we at SSMI consider comforting of the sick and, when possible, personally visiting the sick, to be a basic apostolic ministry of our community…a golden thread that has run through all of our missions since SSMI was founded.
Whether it is to someone newly-hospitalized, or to one facing surgery or diagnosed with a life-threatening illness, or to one aged or homebound where a sister may be the only one to listen or to offer a compassionate word, a sister is always ready to offer a spiritual presence, a sympathetic understanding, a prayer.
In each of our mission homes, we offer daily prayers for those in need of God's tender mercy; especially for those whom we cannot visit. While altruistic in nature, our sisters gain personal satisfaction in making the sick person happy, loved, and cared-about.
Would you like to have our sisters join their voices and hearts with yours in praying for bodily or mental healing, or for any other cause?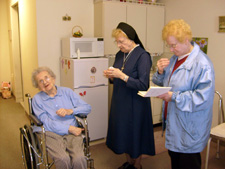 All you need to do is call a local SSMI mission home. If an SSMI mission is not near you, contact us at Sloatsburg so we can add your personal petition to our prayer list.
E-mail:
Phone: 845-753-2840
Write to us at: Provincialate, 9 Emmanuel Drive, P.O. Box 9, Sloatsburg, NY 10974-0009
God bless you,
Sisters Servants of Mary Immaculate
The painting, "The Angels of Mercy" is by Jeanette Shewchuk.