For the latest news and updates, please visit the News page
For the updates on the 66th Holy Dormition Pilgrimage please click below
Due to power outage after the Isaias storm, we weren't able to live stream our 6th Novena for the Holy Dormition Pilgrimage, but we are trying to share with you Rev. Archpriest Daniel's homily on the Transfiguration of Our Lord.
We apologize for the quality of the video due the low light.
God bless you!!!
Day 6- Thursday - 8/6/20 - 66th Holy Dormition Novena - IF THE POWER GETS RESTORED THERE WILL BE LIVE STREAMING and the link will be here.
One way or the other, the Novena Divine Liturgy is being celebrated by Fr. Daniel Troyan at St. Mary's Villa Chapel.
Day 5- 66th Holy Dormition Novena - NO LIVE STREAMING due to power outage
Dear Pilgrims,
Due to the pandemic, our 66th Annual Holy Dormition Pilgrimage will be a very different experience for you, our pilgrims, as well as for our Sisters and Clergy. Although physically separated from one another, we will remain "united" under the Omophor of the Mother of God, whom we honor each year at this time.
The Sisters Servants hope to fill that "pilgrimage void" by coming into your homes through live-streaming the Divine Liturgy and other services throughout the Pilgrimage week.
If you would like to give a Divine Liturgy intention (stipend $15) or have a candle ($5) or give a donation for the pilgrimage, please click on the donate box below.
Thank you and God bless you!
Donate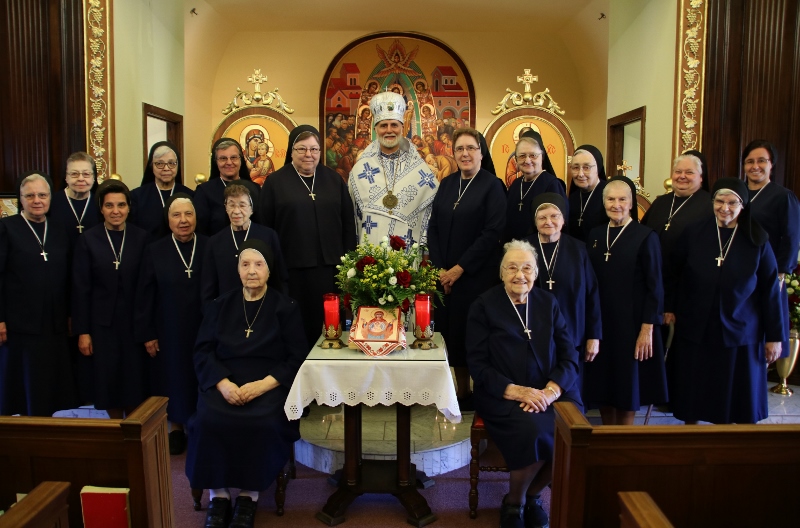 Missing sisters: Sr. Longina, Sr. Evelyn and Sr. Rose Margaret
The Sisters Servants of Mary Immaculate, of the Immaculate Conception Province in the USA, welcome you to our website.
2018 began with a new General Curia for the SSMI's with the election of Sr. Sofija Lebedowicz as Superior General and her Councilors, Sr. Bonifatia Dakiv, Sr. Janice Soluk, Sr. Mykola Ctepac and Sr. Luiza Ciupa.
We were founded in 1892 in Zhuzhel, Ukraine, the first active women's congregation in the Ukrainian Greek Catholic Church. Presently, we have almost 700 sisters worldwide with provinces in Brazil, Canada, Poland, Serbia, Slovakia, Ukraine and the United States, as well as being missioned in Argentina, Australia, Belgium, France, Germany, Kazhakstan, and our Generalate in Rome, Italy. We began our ministry in the United States in 1935 and were established as a province in 1959. We strive to live in the example, spirit and charism of our Patroness, the Mother of God, our Foundress, Blessed Josaphata Hordashevska, and our co-founders Rev. Jeremiah Lomnitsky OSBM, and Rev. Cyril Seletsky. We continue today to strive to carry on the passion and charism of our foundress and co-founders. We welcome you to browse our website and also encourage you to pray for vocations to the Sisters Servants, to discern if YOU have a vocation to serve where the need is the greatest in our church! Glory to God! Honor to Mary! Peace to Us!