St. Mary's Villa
St. Mary's Villa Spiritual and Educational Center is centered in the grand St. Mary's Villa located on our beautiful and spacious property in Sloatsburg. We can host retreats, seminars, or meetings from September 1 through July 1 for bookings of mornings/afternoons, overnights, weekends, or entire weeks.
Accommodations
- We can accommodate up to 100 persons for daytime activities and can sleep up to 56 (double occupancy) and 31 in private rooms. Some sections have restrooms shared between two rooms and some sections have a common restroom in the hallway.
We offer a chapel, a large gallery that can seat about 85 comfortably, two meeting rooms that seat 20 and 35 respectively, and smaller, more intimate rooms for discussions.
Our park-like grounds are a pleasant place to take a long walk or jog. Sports or recreation can be enjoyed on our large lawns. For a diversion, outdoor picnic facilities are available.
Religious facilities
– For services or meditation, we have a fine chapel designed in Byzantine style, an outdoor grotto modeled after the grotto in Lourdes, France, adjacent outdoor Stations of the Cross, and a
meditation garden.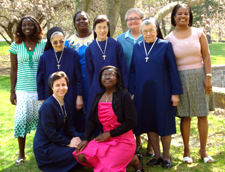 Our Friendly Staff
Meals
– Home-cooked meals as well as snacks are provided.
St. Mary's Villa has hosted retreats for youth, adults, confirmation groups, and religious congregations and organizations. All denominations are welcome.
Retreat masters, facilitators, educators, and chaperones for minor students must be provided by the group.
Call us at 845-753-5100 or write to us at sralbinag@gmail.com for booking and meal rates, and any questions you may have.
We'd love to host you in our beautiful facilities!
We also offer spacious and convenient picnic facilities for up to 1,000 people. Our picnic tables can seat about 350 per sitting. There are cooking facilities with stoves and refrigerators, and clean restrooms. Our extensive lawns and grounds are perfect for sports, taking a long walk, and other recreation. We have space to park well over 500 cars.
We have hosted church groups, police departments, businesses, fire companies, and other large groups. Religious groups can have a service at the grotto as part of the picnic.
Groups must
show
proof of insurance
before
the event; sorry, no exceptions.
Call us at 845-753-5100 or write to us at sralbinag@gmail.com for policies, rates, and questions.